Dr. Kaynat Kazi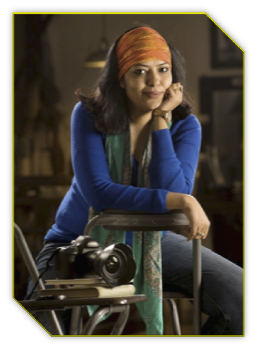 About:
Dr. Kazi was born 12 August 1983, in Firozabad, India and completed PhD in Hindi from the Agra University and is also a trained journalist. She has worked in The Sunday Indian after pursuing a degree in Mass Communication from the renowned Jagran Institute of Mass Communication. She is an Author, Travel Photographer, Blogger, Storyteller and above all a Solo female traveller.
Her enthusiasm for travel and love for writing finds expression in her photography too. Kaynat's passion for travel, writing and photography paved way for Rahagiri.com. Rahagiri is India's first Hindi travel photography blog. It is not just a blog showcasing the locales, heritages, historical places that she has traversed but present a beautiful tapestry of her dreams and aspirations.
She has travelled approx 1,00,000 Kilometers covering 17 states of India and Europe including Sweden, Paris and Amsterdam. She has learned the art of photography from the legendary Dr. O. P. Sharma, a world famous photographer.'Colors of India', her solo debut exhibition celebrates the rich culture, spectacular crafts & exotic artifacts, great traditions and rituals of India.
She is a member of many esteemed and renowned organizations like India International Photography Council, Delhi Photography Club and Delhi Journalists Association to name a few. Recently she has been nominated as the photography expert in the Local Art Committee (Northern Region) of the Reserve Bank of India. She has worked with The SundayIndian-Magazines published in 14 languages and has done photography for many magazines. She was associated with All India Radio and has been writing for few prestigious magazines & newspapers. As a travel enthusiast, Kaynat has toured various places all over the world. At present, she is working with globally renowned Shiv Nadar University. She is the auther of two books. Her first book-Krishna Sobti ka Sahitya aur Samaj was based on the literature of famous writer Krishna Sobti and her second book-Boganvelia is the collection of short stories.
Awards:
• Youth Journalist Award -2015
• Media Excellence Award -2016
• National Achievement Award -2016 into Photography from ICMEI (International Chamber Of Media & Entertainment Industry, NAI (Newspaper Association Of India) and IJC (International Journalism Centre)
• Best Blogger Award -2016 by ABP News Channel

Achievements:
Photography exhibition :Exhibited three solo photography exhibition & participated in many group exhibition.
• Colors of India-2014 at India habitat centre, New Delhi
• Colors of India-2015 at Shiv Nadar University- Gr.Noida
• Sabrang-2016 at Café the art, Connaught place, New Delhi
FAVOURITE QUOTES : Jiyo or Jine Do.......