NAVIKA CHHAUDA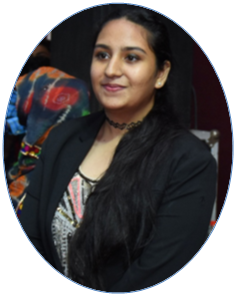 About:
She was born 16 June 2000 and now she is 16 years old from New Delhi and studying class 11th in Delhi Public School, R . K. Puram, New Delhi.
Career:
Teaching French to the underprivileged girls of Jamia localty (age from 12yrs to mid 30s), in the Jamia police station – in police public library- with the challenge to empower these girls with the third language i.e French ( which is the basic course of the CBSE curriculum in private schools). My drive that they have a "right to equal education" concerning all subjects including foreign language lead to this decision.
Associated with pray as NGO (juvenile shelter for girls victims of rape and human trafficking) - teach French to these girls. This experience was very fulfiling as all the girls in the school gathered to learn French even the girls of age 4/5yrs. The most interesting part was though most of the girls did not have any study background, but when it came to French language, they were very excited and waited for me to come and take the classes and insisted to take it every day.
Navika's FRENCH CLASSES were COVERED IN THE HINDI HINDUSTHAN NEWSPAPER ON 18 JANUARY 2016.
Published a book "NOUS PARLONS FRANCAIS DANS LA BIBLIOTHEQUE PUBLIQUE" meaning "WE SPEAK FRENCH IN THE LIBRARY" – this book is on my experience of teaching French to the underprivileged girls. And this book makes it unique as it has the experience of my students regarding the French language in their own handwriting. Whole purpose of this book is to spread awareness among my fellow friends to join hands with me in community service as I believe poverty is not being poor, but it is not being loved, shared, and cared.
School Awards for Academics & Extra Curricular Activities:
► Scholar Badge holder in 2010 and 2011 for excellence in academics
► Scholar Badge holder in 2012-awarded with a BLUE BLAZER for getting 3 consecutive scholar badge for excelling in academics
► Scholar Badge holder in 2013- awarded with FIRST BLUE BADGE
► Scholar Badge holder in 2014- awarded with SECOND BLUE BADGE
► Scholar Badge holder in 2015- awarded with BLUE TIE and SECOND BLUE BLAZER for getting scholar badge for 6 CONSECUTIVE YEARS AND FOR EXCELLING IN ACADEMICS
► Red Blazer holder for clearing Diploma in Kathak from Shri Ram Bhartiya Kalakendra and securing 5% Quota in Delhi University.
► Red Tie for Kathak Dance Competitions.
► Achieved diploma in classical dance Kathak from Shri Ram Bhartiya Kala Kendra after 7 consecutive years training in the same, also got 5% quota reservation in the Delhi University for Clearing Diploma in Kathak.
► Awarded with Violin Grade 1 from Trinity College Of London
► Cleared DELF A1 In French Language From Alliance Francais, French Embassy
► Yellow Belt in Taekwondo.
► She got India Book of record on her work on Community Service in October, 2016