Sakshi Malik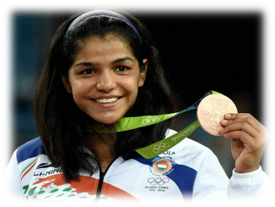 About:
She was born on 3 September 1992 in Mokhra village of Haryana's. She has completed a master's degree in physical education from Maharshi Dayanand University in Rohtak. According to her father, she was motivated to take up wrestling from seeing her grandfather Badhlu Ram, who was also a wrestler. She began training in wrestling at the age of 12 under a coach, Ishwar Dahiya, at an akhara in Chhotu Ram Stadium, Rohtak. Her coach and she had to face opposition from the locals for having taken up a sport "not for girls". She is an Indian freestyle wrestler and currently employed with Indian Railways in the commercial department of its Delhi division, in the Northern Railway zone and is a part of the JSW Sports Excellence Program. Following her bronze medal win at Rio, she was promoted from senior clerk to gazetted officer rank. In September 2016, she was appointed as the university's wrestling director.
Carrier:
Malik's first success as a professional wrestler in the international arena came in 2010 at the Junior World Championships where she won the bronze medal in the 58 kg freestyle event. At the 2014 Dave Schultz International Tournament, she won gold in the 60 kg category. And after that she never stopped and maintained the passion and dedication towards the game. At the 2016 Summer Olympics, she won the bronze medal in the 58 kg category, becoming the first Indian female wrestler to win a medal at the Olympics and the fourth female Olympic Medalist from the country. She is a part of the JSW Sports Excellence Program, along with fellow female wrestlers Vinesh Phogat, Babita Kumari and Geeta Phogat.
Awards:
► In the 58 kg category to win a Bronze medal at the Olympics.
► Rajiv Gandhi Khel Ratna (2016) - highest sporting honour of India
► Multiple cash prizes totaling over ₹5.7 crore (US$850,000) from the Indian Railways, the Indian Olympic Association, the Ministry of Youth Affairs and Sports, the Government of Delhi, various state governments, including Haryana, Madhya Pradesh, Uttar Pradesh, from private bodies such as the JSW Group and from political groups including the Indian National Lok Dal.
► She has also received a brand new BMW from former Indian Cricketer Sachin Tendulkar.